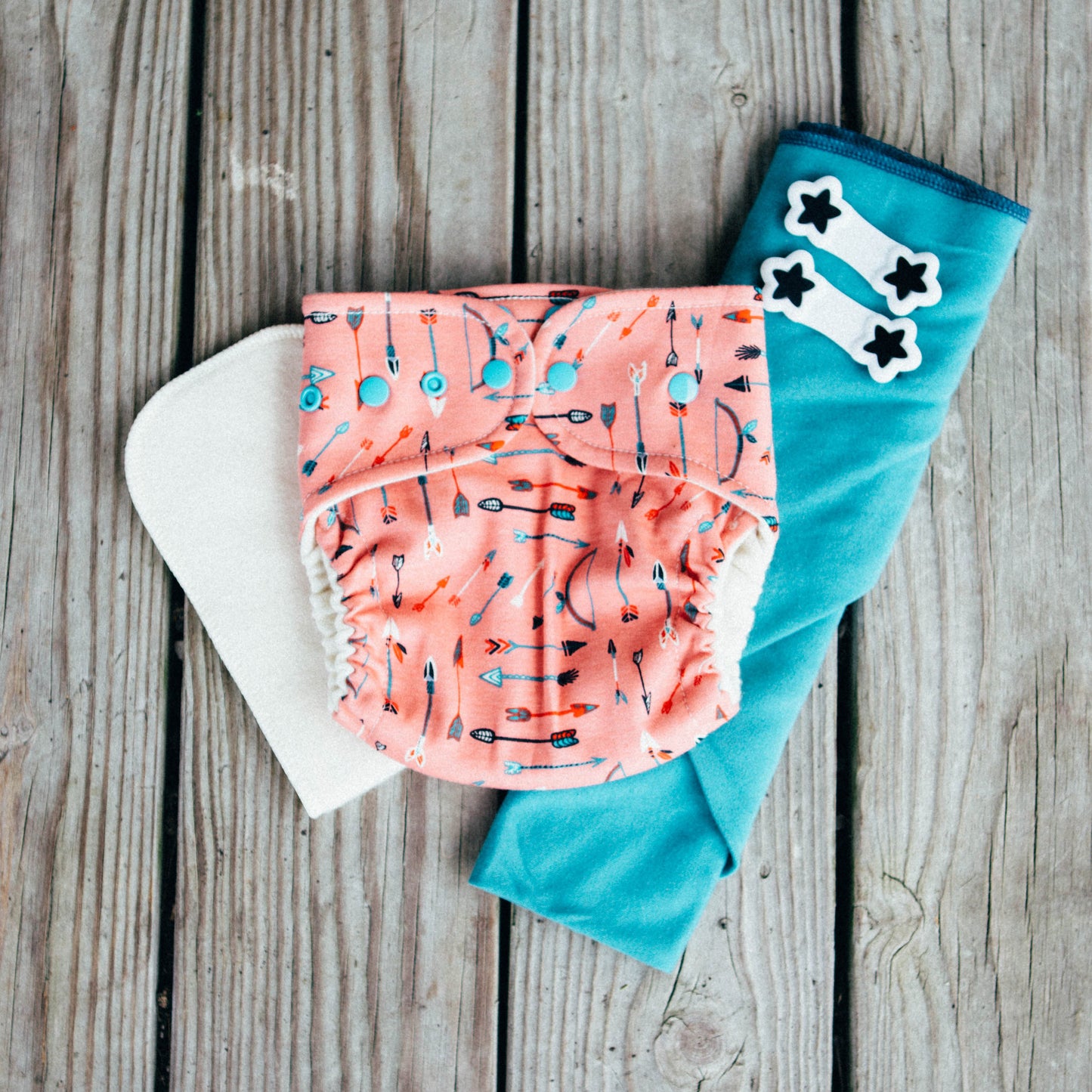 For the challenge, we tried to stick to the most economical diaper stash possible (using One Love products of course!).  I'll admit we're spoiled when it comes to diaper covers here and I have just about every print we've ever released.  However we actually have a very modest stash of absorbent diapers.  Occasionally when I'm making prototypes or adjusting designs we get to add a diaper here and there but we're usually hovering around 12-15 absorbent diapers.  I've been slowly adding more interlock flats to my stash.  I had 6 hemp flats in the rotation since last year, but when an interlock flat was added to our stash in a pinch (hadn't done laundry and had to pull from shop inventory, lol!) I found myself constantly reaching for that diaper first when the laundry was done!  Soon I added 3 more.  For the challenge this year I decided to use 6 interlock flats, 2 hemp flats, 4 heavy-duty wooly boosters, and 4 wool covers.  Here's the breakdown of what the retail cost would be:
3-pack Organic Interlock Flats: $27 x 2 = $53 (Flats are 10% off in the shop this week!)
Organic Hemp Flat: $12 x 2 = $24
Organic Heavy Duty Wooly Booster: $12 x 4 = $48
OS Organic Wool Wrap Diaper Covers: $54 x 4 = $108
Organic Hand-Knit Wool Soakers (LG): $38 x 2 = $76
TOTAL COST: $283
The stash we are using was crafted from what we just happen to already have in our stash this year, since I'm way to busy getting orders ready to sew for myself!  However, we have a very economical "full-time flats bundle" in the shop that is $250 and includes:
3 One-size Organic Wool Wrap Diaper Covers
9 One-size Organic Cotton Interlock Flat Diapers
3 Organic Wooly Boosters
9 Organic Sherpa liners
1 4oz. jar lanolin
1 4oz bottle Wool Wash
I felt like I needed a 4th cover for insurance, so you could add in an extra cover and that raises the price to $288-304 depending on cover style.
So our total stash costs less than $300.  You could certainly create an even less expensive diaper stash by making some of the items yourself.  Organic cotton interlock is about $10-12/yard and you can get 8 diapers out of 3 yards of 54-60" wide fabric.  You actually don't even have to finish the edges of the fabric, we serge our edges to make them look pretty and neat but if you don't have a serger, all that it takes to make these diapers is a pair of scissors!  A whole stash of certified organic flats could cost as little as $30.  Another method we did a tutorial on last year was T-shirt flats.  You can get 2 diapers out of an old T-shirt.  Size XL is best but we used my hubby's size L undershirts and got by with a little bit of a smaller flat diaper.  At thrift shops Tees are usually around $0.50-1.00, meaning that you could have a stash of flats for about $2.00-4.00 - that's crazy!!  I love it!